CARPORTS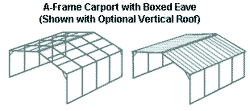 Carports - We have a wide selection of standard carport sizes, which are suitable for most of our customers. We can also create custom buildings. Use as many color combinations at no additional charge. Please call for a quote!
Roof Design - We offer two primary roof designs. One of which is the Standard Rolled-Corner design. The other design is the A-frame with Boxed Eave. Both designs can be constructed the 12 Gauge, 14 Gauge, and Certified configurations. Both designs also come standard with four corner braces. A snow brace on every arch, that meets or exceeds codes, and a standard 20-year warranty is included at no additional charge. We service the lower 48 states on all carport designs.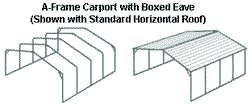 Options - We also offer a variety of options with our carports. On both the standard type and the A-frame type, the carport comes with a Standard Horizontal Roof. The roof panels run parallel to the side of the carport. With our A-frame with Boxed Eave products, you can choose to have the panels installed vertically at an additional charge. You should consider purchasing additional panels to the side of your carport to keep the blowing rain off of your vehicles or equipment. Also consider the addition of gable ends to your carport, especially if you are placing the carport near your home. It makes the carport stronger and it has a much nicer curb appeal.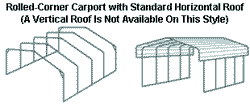 With the standard rolled-edge carports, the horizontal roof option is the only roof option for this type of carport. Leg height up to 12 feet, additional side panels, gable ends, and side entry openings, are all options that are available in this style carport. Listed below are the standard widths that are available. However, if these standard sizes are not suitable for you, please call us and we will try to accommodate your needs!
Carport Pricing includes installation on your level lot
*A-frame or rounded roof styles, doors available
| | | | | |
| --- | --- | --- | --- | --- |
| 12 x 21 | 12 x 26 | 12 x 31 | 12 x 36 | 12 x 41 |
| 18 x 21 | 18 x 26 | 18 x 31 | 18 x 36 | 18 x 41 |
| 20 x 21 | 20 x 26 | 20 x 31 | 20 x 36 | 20 x 41 |
| 22 x 21 | 22 x 26 | 22 x 31 | 22 x 36 | 22 x 41 |
| 24 x 21 | 24 x 26 | 24 x 31 | 24 x 36 | 24 x 41 |
| 26 x 21 | 26 x 26 | 26 x 31 | 26 x 36 | 26 x 41 |
| 28 x 21 | 28 x 26 | 28 x 31 | 28 x 36 | 28 x 41 |
| 30 x 21 | 30 x 26 | 30 x 31 | 30 x 36 | 30 x 41 |